................................................................................................................................................................................................................................
A WOMAN ON A MISSION: The Journey
Founder: Dounne Alexander MBE. FRSA)
( Additional background information)
In the face of considerable risk, Dounne has gone out of her way; taking every possible step
(*see below), to inform the 'powers that be' of these grave concerns; in the hope that they would protect us.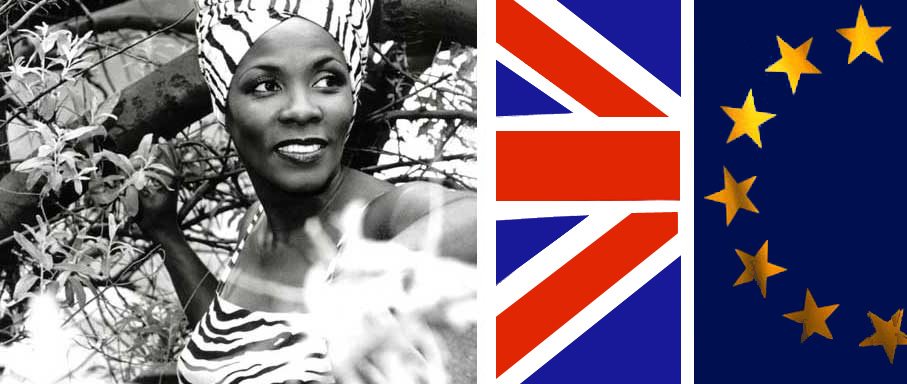 STEP 1.
UK GOVERNMENT: Call to STOP THE MADNESS and 'Opt-Out' of EU Directives and Codes Alimentarius
In 2009, using what she had experienced, learnt and researched; Dounne wrote a detailed report which was sent to the UK Prime Minister (Gordon Brown), Opposition Leaders, all members of both Houses of Parliament; Regional Assemblies (Greater London, Northern Ireland, Wales and Scotland), plus UK MEPs… calling on them to opt-out of these EU legislations. All, with the exception UKIP MEPs and 4 members of the House-of-Lords …
IGNORED IT.
DOWNLOAD DOCUMENTS -
1. Open Letter (Parliament - 2009) - Call to opt out
2. Letter (European Parliament)- November 2009 - Call to opt out
STEP 2.
EUROPEAN PARLIAMENT: Call to 'Opt-Out' of EU Directives and Codes Alimentarius.

In November 2009, a UKIP MEP invited Dounne to personally present her case in the European Parliament (700 EU MEPs) … This too was IGNORED. However, after learning that EU LAWS were declared SUPREME (i.e. they cannot be OPTED OUT, AMENDED or ABOLISHED); coupled with serious corruption in the passing of these laws… she questioned the democratic process of the European Union.

DOWNLOAD DOCUMENT' - Stop The Madness' here.
STEP 3.
EUROPEAN PARLIAMENT: Dounne urges MEPs to sign 'Opt-Out' of EU Directives and Codes Alimentarius.

UKIP's Letter of Support to the Prime Minister
On 16 December 2009, on Dounne's request, the UK Independent Party (UKIP) sent a 'private letter' to the Prime Minister, expressing their concern that The EU was prohibiting the legitimate sales of herbal remedies and vitamin supplements in the UK. The letter signed by all 16 members (13 MEPs and 3 House of Lords)... was also IGNORED.


DOWNLOAD DOCUMENT. Support Letter (British MEPs)- November 2009,
See those who sign their support for opt out..
STEP 4.
THE NATIONS SPEAKS - "NO! NOT IN MY NAME"

In May 2010, Dounne then initiated this petition, to create public awareness and make people realize they have the POWER to make the Government opt out, amend or abolish these Laws. The UK public immediately took up the challenge and started to SIGN the petition and spread-the-word.
STEP 5.
UK LAW COMMISSION:
To amend or abolish the 1939 Cancer Act

In October 2010, she then made an application to the Law Commission to amend or abolish the 1939 Cancer Act, which prohibits the use of 'natural cancer treatments' or research into the prevention of the disease. This ACT was passed solely for the use of experimental cancer-drugs. In it she states:

"Seventy two years ago, before this Act was passed, we lived mainly on natural foods and cancer was then a rare condition affecting only 1 in 40 to 50 people. Today, cancer has reached pandemic levels, affecting 1 in 2 to 3…using artificial foods and experimental cancer drugs. This is the worst medical failure in recorded history (another hidden scandal). Furthermore, seventy two years ago, the UK population comprised mainly of Caucasian born UK citizens. In comparison, today's population consist of a large and growing number of 'foreign' UK citizens - 1 in 10 (i.e. Chinese, Indians, Caribbeans, Africans, Europeans and others), whose cultural traditions recognize the effective use of more natural therapies. These incorporate 'natural foods, herbal remedies, holistic practices, intuition and spirituality, as part of their healing process. The Act does not recognize, consider or take these ancient traditions into account, despite their proven veracity. Therefore, the Act is out-of-date, bias, discriminatory and unjust".

This must read document exposes the cancer business; violation of human rights and pharmaceutical control. 'The Law Commission declined this proposal because of their lack of medical expertise.

DOWNLOAD DOCUMENT. 'The Cancer Act proposal' '
STEP 6.
QUEEN ELIZABETH ll; appeal to intercede on the nation's behalf:

In December 2010, Dounne sent a powerful (41 page) document appealing to the Queen to honour her Coronation Oath; to defend and protect her citizens and country from these draconian Laws. In it she states:

"Although Your Majesty does not normally intercede in Legislative affairs, I believe where any Government puts the lives, health and welfare of your people at risk of imminent danger, it is then the duty of the nation's highest power (the Crown) to intercede. I fear if Your Majesty does not do something at this late stage, the natural health industry, traditional remedies and consumer choice could be destroyed; paving the way for a pharmaceutical drug dependent culture. As per Your Majesty's Oath, I pray that you will save your people from a life of perpetual ill-health, extreme censorship and enslavement".

She further adds:-


"With no one else to turn too, (as the last resort) and at the risk of being 'criminalized' for revealing these truths; accused of being a terrorist, extremist, conspirator, political activist, scaremonger, or mentally ill (under the Mental Health or other related Acts and forced into a mental institution)... I now turn to Your Majesty as our sovereign Monarch to intercede… as Your Government; Opposition Leaders, Parliamentary Members and MEPs do not appear to have the best interest of UK citizens at heart, nor the 'political power', 'will' or 'influence' in matters affecting us… where the European Union and the Pharmaceutical Industry are concerned."

Her Majesty responded that she was unable to intervene, however Dounne's request was for her to INTERCEDE.

To ensure all were made fully aware of the serious implications and consequences, a copy was sent to the political leaders and Parliamentary members previously mentioned; plus Prince Charles, Prince William, the new Prime Minister (David Cameron), Deputy Prime Minister (Nick Clegg). This document based on factual evidence, implicates all Political Parties, exposing (for the first time) secret agendas, corruption, exploitation and deception against UK citizens.

DOWNLOAD DOCUMENT 'Appeal to the Queen to intercede on the Nation's behalf'. This explosive document makes a compelling case for the UK Government to OPT OUT and is an invaluable resource for UK, EU and Global citizens to truly understand the real nightmare ahead and how to protect theirselves and loved ones.




STEP 7.
RECLAIMING HER DIVINE RIGHTS & SOVEREIGNTY as a 'Free Living Soul':

After all avenues to obtain legal redress failed, Dounne refused to continue being part of a corrupt scheme of Government, whose laws no longer guaranteed justice and fair-play to all, nor meet the 'health needs' of the people. She then decided to remove herself from The United Kingdom Plc & Statute Law via AFFIDAVITS (i.e. 'Claim of Rights'); electing to live as 'a Free Living Soul' abiding only by …

(A). The fundamental Divine Laws of LIFE & Nature, as bestowed by the universal Creator (i.e. Supreme Law).

(B). The fundamental rules of Common Law (i.e. the true laws of the United Kingdom of Great Britain and Northern Ireland).

(C )..The fundamental Human Right of Autonomy (i.e. the Free Will to self-determine one's own actions and behaviour without the intervention of others).

She says: "Until such time that the European, United Kingdom and Global LAWS uphold, respect and guarantees the RIGHTS of humanity, I will not abide by their rules"



STEP 8.
UNITED NATIONS PROPOSAL.
'Call to put our HEALTH before Corporate Wealth'

In September 2011, Dounne finally submitted a controversial proposal to the United Nations 'Human Rights Commissioner' (Ms. Navi Pillay) and 181 UN Ambassadors' - calling for the extension of 'The 2011 - International Year for People of African Descent to 2012; plus the abolition of the EU Food Supplements Directive and Codex Alimentarius… to avert Government / Corporate Global Slavery.

In it she states: "Whilst the United Nations is openly apologizing for slavery (i.e. The Transatlantic Slave Trade & 500 years of African suffering), they are about to repeat the same gruesome mistake, introducing a new type of '21st century' slavery which could prove the worst form imaginable in our civilized history. The results on humans, animals and the 'natural' environment could be catastrophic and irreversible. Affecting the entire global population; deceived into a false sense of security believing they are FREE - as the chains and shackles will not be visible but the torturous pain and suffering will be far reaching and everlasting. Therefore, as a descendant of slaves, I am utilizing my freedom & power, plus the privilege afforded to me under the UN Declaration…to bring global citizens together in peaceful opposition to stop corporate slavery".

DOWNLOAD DOCUMENT 'UN Proposal'.
This document exposes the full global slavery agenda.
STEP 9. YOUR HEALTH, BEFORE CORPORATE WEALTH:

In December 2011, Dounne then wrote to the United Nations - Secretary General (Ban Ki-moon) outlining that as Human Rights advocates & Peace keepers of the world, the United Nations has a moral duty to intervene; to prevent this horrendous plan against humanity and the natural environment. Again, he too did not respond. So in January 2012, she called on campaign supporters to send out an email blast to Ban Ki-moon and UN Ambassadors to 'Demand their health is put before Corporate wealth'.

http://joininghandsinhealth.com/E_BLAST/BANKIMOON/letter.asp
"In summary, the common theme running through Dounne's 'Call to Action' - is that those we have elected to protect us, has remained silent.."
* * *
.......................................................................................................................................................................................................................
ABOUT THE FOUNDER:
DOUNNE ALEXANDER MBE. FRSA.

Mother, Spiritual Herbalist, Health Campaigner, Freedom Fighter; Dounne is also the founder of the Joining Hands In Health campaign; GRAMMA'S (Specialist Herbal Food Manufacturer). Pioneering British/Caribbean entrepreneur; Author of 'The Black Cinderella and A Mission of Love'; Voted one of the 100 greatest & most influential black people in British history; Honoured by the Queen with the MBE for service to the British Food Industry and the recipient of 10 National Awards including the 2011 award for Human Rights.
Born (1949) in the beautiful Caribbean Island of Trinidad, as a severely premature baby with a life expectancy of only one month. Thankfully her late grandmother's strong faith, intuition, tender loving care and incredible knowledge on the health enhancing benefits of natural foods and folklore herbal remedies… enabled her to survive against the odds. Therefore, following in her ancestor's footsteps, Dounne is a passionate believer in 'Divine Purpose, Spiritual Consciousness and a strong advocate of Traditional Self Healing' (based on their ancient holistic principle that Natural Foods are meant to Feed & Heal). In comparison, witnessing the increasing deterioration of people's health in the UK (and worldwide), due to the overuse and abuse of 'synthetic medications & artificial foods'; for the past 3 decades, she has spearheaded 'traditional natural healthcare'; emphasizing the importance of healing mind, body & spirit through the provisions of nature & home-cooking… highlighting the essential role they play in maintaining overall (whole body) health. Through this, she hopes to revolutionize 21st century healthcare by taking 'food & medicine' to the next level. Her ultimate dream is to re-educate and empower everyone to take responsibility and manage their own health; plus join forces with the National Health Service, Doctors, Health Practitioners & Carers to provide cost-effective healthcare solutions, as well as integrate animal health & welfare.
For more information visit www.grammasintl.com

..........................................................................................................................................

A WOMAN ON A MISSION -------.ABOUT THE FOUNDER ---------NEWS AND PRESS------.DONATE ..VIDEO VAULT